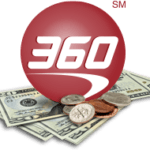 We started with ING Direct, before it was bought out by Capital One 360, and it continues to be the best online bank we have have come across. It consistently pays higher interest than our local banking institutions, and has grown to include a number of services, such as mortgages, auto loans, kids accounts, investment banking and more. Its web interface and apps are easy to use, allowing for quick transfers within Capital One 360 accounts, as well as with all our external accounts.
Capital One 360 strongly encourages savings, so they make it easy to setup separate saving accounts for different saving goals. We created individual savings accounts in seconds, to save for a vacation, a new car, and college loans. Transferring funds between them was also easy.
In addition, while traveling oversees, we were thrilled to learn that by using our Capital One 360 debit card, we were not charged any foreign transaction fees…which saved lots of money!
By using automated direct deposit, mobile deposits, debit card or checks, Capital One 360 has everything you need in a bank…and much more!
And if you sign-up today, they are offering new customers a sign-up bonus of $25 on savings and checking accounts (and typically higher sign-up bonuses for some of their other banking products). Makes the deal even sweeter! 😀